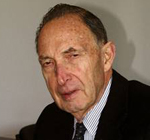 Stanley Hiller, Jr., began his career as one of the world's three principal developers of vertical flight, while still a teenager. After leading a company that produced thousands of helicopters for military and commercial markets worldwide, Mr. Hiller began a remarkable second career, applying management techniques widely sought in the turnaround of troubled American companies.
Hiller innovations in the technologyof vertical flight included the first helicopter flown in the western United States, the world's first successful co-axial helicopter, the famed Flying Platform, the one-man foldable "Rotorcycle," the unique "Hornet"
helicopter powered by rotor-tip-mounted ramjet engines, and the first high-speed vertical take-off-and-landing tilt-wing troop transport. Stanley Hiller's company, Hiller Aircraft Corporation, started in 1949 as United Helicopters when he was 18 years old, and it was soon producing the first battlefield evacuation helicopters for the French Indochinese War and the Korean Conflict in the 1950s.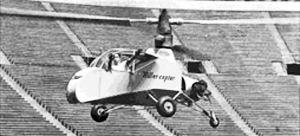 Hiller-copter dual prop helicopter without rear rotor
Hiller Platform flying in 1955 in his "second career" beginning in 1966, after leaving Fairchild Hiller Corp. into which he had merged Hiller Aircraft, Stanley Hiller created The Hiller Group, utilizing his leadership concepts in turning around failing companies in diverse fields, including Reed Tool Company, Bekins Corp., and the huge York International air conditioning manufacturer. His efforts were responsible for a transformation of Baker International into its present structure as Baker Hughes Corp.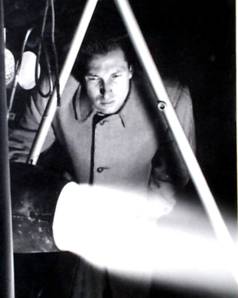 Pursuing a management style of hands-on control of his turnaround candidates, Mr. Hiller developed and advised the nation's business community how corporate governance needs to reform to succeed in a global economy. He warned of the "feudal system" at the top of many large corporations, which would ultimately undermine the American system of free enterprise he cherished. In 1990s speeches and articles, he pressed for structural solutions in such trends as growing trade deficits, "paralyzing federal debt," and corporate boards too weak to redesign failing and greedy managements.
The Hiller Aviation Institute & Museum was founded by helicopter pioneer Stanley Hiller Jr. in June 1998. The institute was conceived in the early '70s on the premise that objective presentation of history, with all its linkages and drivers, would be a logical foundation which to construct a vision of future global science and aviation.
Silicon Valley is an ideal location for an institution where science and aviation problems and solutions can be explored, evaluated, taught and communicated to the public and corporate audiences. Concentrated in this area are the talents, sciences, the progressive attitudes and capital resources needed to develop science and aviation in the 21st century.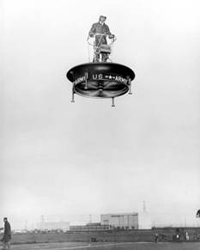 Stanley Hiller testing
pulsejet engines in mid 1950s.
To accomplish these goals, the institute's Board of Directors built a composite structure comprising the Hiller Aviation Museum and the Education and Research Center.
Mr. Hiller became aware of Thunderbolt Aerosystems in early 2002 and lent a special ear to Mr. Amarena, whom as he noted in one of their many meetings, "Amarena reminded him of his early days of engineering", where by his single-handed entrepreneurship forged ahead with all his aviation dreams. Mr. Hiller's advise and scrutiny over the strategy of Thunderbolt Aerosystems' projects enlightens Nino Amarena and his team to always strive for quality, service and on-time/on-spec delivery of products.
Stanley Hiller's contribution to Thunderbolt Aerosystems futuristic design for the ThunderJet and other jet-propelled project currently on the design board of the company has been invaluable, both from the technical standpoint and especially for the mentorship of someone who has been through the same paces, more than once.