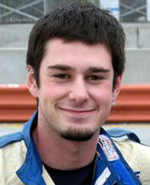 Jason Amarena has been part of the Thunderbolt Aerosystems from its inception, and has recently joined the team part-time as the company's Pilot Preparedness and Human Factor Manager.  Since he is Nino Amarena's son,  Jason endured the natural up-and-downs of the project on a day to day basis and was privy to all the facets of the design and development of all models of ThunderPacks.
He is in his senior year of studies of Psychology at the Chico State University, CA and this training has enabled him to exercise one of the most important parts in pilot training and readiness for flight of such a small but extremely powerful machine.  His involvement in human factors support provided throughout Phase-2 Program assisted in the formulation and, when necessary, revision of the ThunderPack flight-test plans and integrating detailed procedure requirements for checklist control of the test operations.
During this Phase-2, Jason made recommendations for the ThunderPack computerized simulation problems as well as on pertinent modifications of the ThunderPack ergonomic design. Once his studies are finalized Jason hopes to join the ranks of Thundermen piloting his own ThunderPack.