Bill Suitor is Thunderbolt Aerosystems Director of Training bringing to the company an extensive and prolific portfolio of experience and empirical knowledge related to how to learn to fly a rocketbelt. Bill flew as an official member of the well-known Bell Aerosystems Rocketbelt Flying Team from 1964-69 and demonstrated it's unique flying characteristics in over 13 countries worldwide. He joined Bell Aerosystems as a rocketbelt test pilot in 1964 and has flown over 1200 flights without serious injury.

Learning to fly a rocketbelt is no easy task.  Suitor's most common explanation of what it feels to fly a rocketbelt returns the same reply:  it's like standing on a beach ball on top of a pool of water.  Hardly the kind of stuff any aircraft pilot has ever seen.  But Bill's keen eye for the body positions of the pilot under training, coupled with his ability to venture diagnosys to flight attitude problems, have earned him the nickname of "mother goose", striving to make rocketmen of rocketboys.
Suitor got his feet wet when he was hired by Bell Aerosystems to prove to the United States Army that an average, draft-age GI could fly a rocketbelt with little or no previous flight training. Bell Aerosystems was responding to a solicitation from the Army's Transportation Command in Fort Eustis, Virginia for a unique device known as the SRLD or Small Rocket Lift Device to be used by specialized troops.
Having succeeded at his job at Bell with excellence and being the youngest of the five Bell Rocketeers, Suitor amassed a knowledge base unique to teaching how to fly kinesthetically a rocketbelt, drawing from his own novice days of testing.
Suitor's distinctions also include working on the Apollo Lunar Program, testing different variations of the rocketbelt that were being considered for use by NASA's Apollo Astronauts. One of these devices known as the L.E.A.P. or Lunar Escape Astronaut Pogo was designed to provide lunar astronauts with a means of leaving the surface of the moon should the Bell designed rocket ascent engine were to fail on the Lunar Module.
Following his career with Bell Aerosystems in 1969, Suitor joined the American Screen Actors Guild and began to fly the Tyler (based on Bell's rocketpack made by California inventor Nelson Tyler) rocketbelt for television and motion pictures. Some of his credits include: "Thunderball" the James Bond thriller starring Sean Connery, "Lost in Space", "Gilligan's Island", "The Fall Guy", "The Six Million Dollar Man", "The A-Team", "Newhart" and many other guest spots and commercials.
His most spectacular flight was at the Los Angeles 1984 Olympic Games where Suitor demonstrated "flight without wings" in front of a worldwide audience of two billion people. Later in early 1995, Suitor flew the maiden only flight of a rocketbelt (designed from Bell Aerospace patents) manufactured by American Rocket Belt of Houston, TX.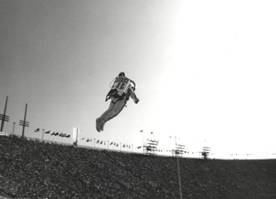 Suitor flying at the Opening ceremonies  for
the 1984  Olympics in Los Angeles, California.
Suitor holds all records of altitude, distance and speed for the rocketbelt and has been recently recognized for his achievements and contributions by the Society of Experimental Test Pilots. 
In 1997 Bill Suitor was contacted by Carmelo "Nino" Amarena chief designer at Thunderbolt Aerosystems, Inc. in California, and asked him to be the official test pilot for their new generation rocketbelt dubbed "ThunderPack", being readied to fly.
Suitor tested the first revision of this second generation (TP-R1G2) rocketbelt successfully.  The lessons learned with these designed engineering tests, led the development of a second revision of the ThunderPack with many of Suitor's design changes suggestions.  He has recently written an autobiography of his many experiences as one of the 'original' rocketmen.