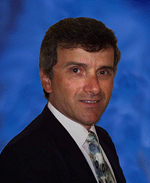 Carmelo S. Amarena is the founder of Thunderbolt Aerosystems, Inc., a division of ETS Technologies, Inc., a company formed exclusively to design, manufacture and sell Personal Flying Devices and Support Systems and have them available to the masses at affordable price points and using commonly available fuels.
In 1979 "Nino" Amarena finished his training and education at the Buenos Aires University of Engineering, in his native Argentina where he obtained a masters degree in electro-mechanical engineering. The economical and political turmoil of the country forced him to immigrate to America where he made his home in California's Silicon Valley. 
There he was able to interact with talents in cybernetics, aerospace and the electronics industry, allowing him to acquire a set of skills, which forged his "technical generalist" expertise working for several robotics, electronics and radio communication multinational companies.
He also became technical advisor for local motor racing teams in the areas of data acquisition, active suspension and traction control, telemetry, combustion oxygenators, aerodynamics and many other racing high-performance designs for Formula Atlantic, INDY, Formula-1.