CHIEF PROPULSION SCIENTIST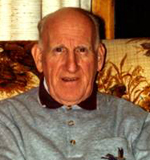 There is no conversation about rocket propulsion employing hydrogen peroxide, which does not contain the mentioning of James 'Jim' McCormick, considered by many to be the father of modern hydrogen peroxide rocket propulsion.
After leaving the 775 Bomb Squadron in 1945 where he honorably served as a flight engineer of a B-17 during WWII, James C. McCormick went to work in the early 1950 for a then relatively unknown company called Buffalo Electro Chemical Company (BECCO) based in Buffalo, NY where he became Manager of Technical Service for the company Hydrogen Peroxide and Hydrazine products.

To McCormick's surprise, these were two chemicals that would be kingpin for the accelerated space race that was going to take the country by a storm after a new young president would challenge the nation to reach the moon.  Immediately he began work consulting with McDonnel Aircraft Corp. for the then-secret "Mercury" project. His keen eye on the inner workings of the hydrogen peroxide rocket motors led him to become a specialist in the field, and BECCO was eventually acquired by FMC Corporation Inorganic Chemicals Division. From then on, McCormick worked on the Scout and Syncom MissilesCommunication Satellite, NASA's Lunar Landing Simulator program,Bell Agena vehicle, Apollo Escape Rocket System, development of underwater crafts and the Saturn-V 1st stage combustion problems along with many other propulsion projects to his credit.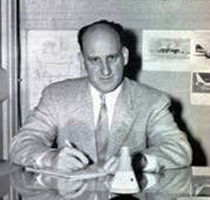 Jim at his BECCO office ca. June 1961
However, of relevance importance, was the work he performed for Bell Aerosystems in 1960 at the request of Wendell F. Moore, to design a rocket engine referred by Moore as a "gas generator", for a new Bell project dubbed SRLD.  This Small Rocket Lift Device is what the original rocketbelt project was named by Bell and funded by the military's Transportation Research Command in Ft. Eustis, VA. 
McCormick was responsible for not only calculating the total thrust required to accommodate a never seen before bifurcated-elongated thrust chamber, (which became the standard for all rocketbelts fabricated to date) but Wendell Moore acknowledged that without McCormick's studies on the gas generator and its required 70-30% tuned throttle valve, the future of the SRLD rocketbelt would have never become a reality.
Jim went on to work with high concentration peroxide in rocket propulsion, for many other aerospace companies of the day and some which are still standing today, like NASA, Aerojet General, Martin-Marietta, Lockheed, Boeing, McDonnell-Douglas, Bell Aerosystems and many other whom benefited from his published books on peroxide catalyst design and his most famous; "Hydrogen Peroxide Rocket Manual" first issued in 1964 and considered by many as the bible of peroxide propulsion literature.
In 1997 McCormick was approached by Nino Amarena in hopes to obtain much needed information on the use of hydrogen peroxide, and after many meetings, he agreed to become Thunderbolt Aerosystems' Chief Propulsion Scientist. From then on James McCormick has been instrumental in Thunderbolt Aerosystems design of a novel peroxide concentrator for portable applications, special formulations of peroxide promoters, state-of-the-art catalyst materials engineering, dual fuel peroxide engines  and many other Thunderbolt Aerosystems funded projects which enhanced the company's intellectual property vaults with the secrets about hydrogen peroxide and other rocket fuels that had either been forgotten by the current propulsion trends or had never been implemented for fear of the unknown.

Sadly, Jim McCormick passed on in 2007, without before bequeathing his entire private engineering library to Thunderbolt Aerosystems, which will forever be grateful for Jim's endearing personality and perceptive knowledge of chemical propulsion.
Most of McCormick's work will be available on our website store library link, for purchase by the novice or seasoned rocket engineers.